Conscious Play Temple 
with Mx. Gili and Guest Contributors 
Next: Sunday, 7th of August, 16.00-00.00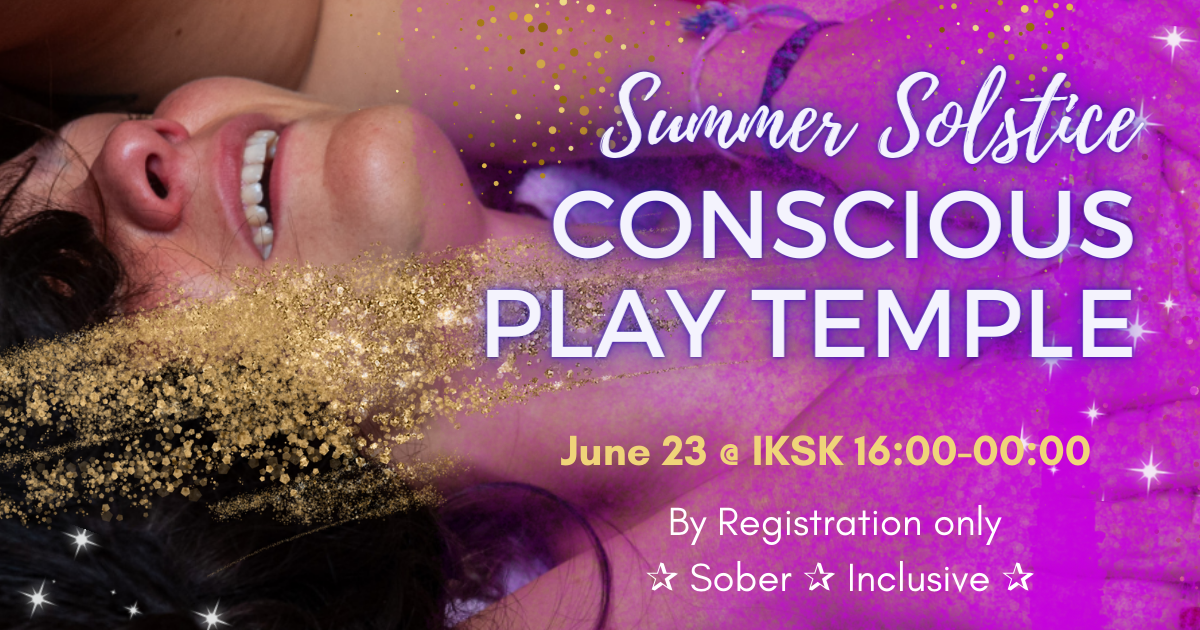 Conscious Play Temple
Conscious Play Temple is an evening of potential and possibilities, consensual connections and permission to play. It is a touch positive, body positive, sex positive space. Choose your own experience, NO expectations.
We intend to use the beautiful space at IKSK to the fullest, creating different environments and pop up activities in different areas throughout the evening. More details about the content will be revealed close to the event in the welcome email, as the full team for the event is still coming together. 



PROGRAM:
✨ Welcome & Agreements: safety, consent, and self responsibility
✨ Cacao Ceremony
✨ Consent & Connection Rituals: facilitated activities to connect with ourselves, each other and the space
✨ Playground Free Flow: design your own experience and/or flow through some of our play 'stages'
✨ Additional pop up invitations and offerings throughout the evening – will be revealed to those who register
✨This event is alcohol and substance free* aside from cacao 
✨This is an INVITATION ONLY event. Sign up only via this form.✨
WHO IS IT FOR:
The Play Temple is for conscious and self aware beings of all experiences, genders, bodies, (legal) ages, relationships, sexual preferences and spiritual paths. It's an invitation to feel into your needs and desires, express them, and engage as much or as little as feels right in the moment.
WHAT IT'S ALL ABOUT:
We believe in every being's right to feel into and express pleasure, emotion, movement, curiosity, needs, fantasies, creativity, energy and presence.
We stand for clear communication and consensual interactions.
We invite you to take initiative and responsibility in your own experience.
We will hold space for you as you move through this journey of exploration and expansion.
Doors Open: 16:00 | Doors Close: 16:30
Closing Circle: 23:00 | Leave the Space: 0:00


This is a nudity, sexuality, kink and spirituality positive space. 
While no one is expected or asked to engage in any of these, we ask that you be open, aware and ready to witness.
Singles, couples and moresomes welcome!
Please contact us if you have accessibility requirements.
✨
WHAT TO WEAR
We want you to feel comfortable, sexy, sensual, playful, creative, connected to your desires, self expressive, and in juicy authenticity. If there's an outfit that you feel would support you in this intention – bring it on! Whether you're wearing pajamas, sexy lingerie, kinky leather or nothing at all – the invitation is for you to be real, relaxed, and ready.
Please don't wear glitter.
WHAT TO BRING
A towel or sarong (for showering / covering play surfaces)
Items for our alter
Safer sex supplies
Toys & fun items to play with
Please don't bring any glitter
✨

GETTING IN
To attend the event please register by filling out this form and following through with the registration and payment. 
You will be requested to fill out a short form inquiring about your intentions and expectations from the space, experience and attitude with consent and a few small details about yourself. 
The registration process has to do with keeping the event safe-enough to everyone in the space, based on our ability to hold it. 
PRICING
Early Bird – 42 EUR
Regular Pricing – 53€ 

Lazy Bird – 64€
No tickets at the door.
Cancellation: up to 7 days before the event you will receive full refund minus 7EUR processing fee. No refunds in the week leading up to the event.
ABOUT THE CURATOR
Mx. Gili (they/them) is a pleasure activist and Temple Whore, called to hold trauma-informed spaces of permission, consent education and conscious relating. As an aspirant of devotional Tantra, Gili's aligned with an approach founded in love, presence, polarity, ritual and expansion. These practices are further informed by a Queer understanding of life, sexuality, and gender as abundant spectrums and a commitment to challenging power structures and paradigms which act to indoctrinate and dissociate body from spirit. Drawing from training in a wide variety of body and energy work modalities, they offer an integrated practice of expressing, experiencing, and honouring the holistic body through intimacy, touch, communication, movement, trauma release, shadow work, pleasure, and play.


TESTIMONIALS
"I felt very safe, respected and loved through the whole journey. I felt no pressure to do anything I didn't feel an enthusiastic yes for.
I feel immensely grateful for the deep intimacy shared in the group and highly recommend this experience."
"Gili uses language in a really unique and powerful way. I felt really seen and understood, and that I could trust myself in the space that was created [by them]… What a gift to receive care, support, and affirmation from someone who is not trying to fix anything, or prove themselves. Gili's quality of presence is intuitive, enjoyable, valuable, and very appreciated."
"This was my first Temple experience and I'm so grateful for feeling so safe but also encouraged to explore and play! Will definitely want to join again!"